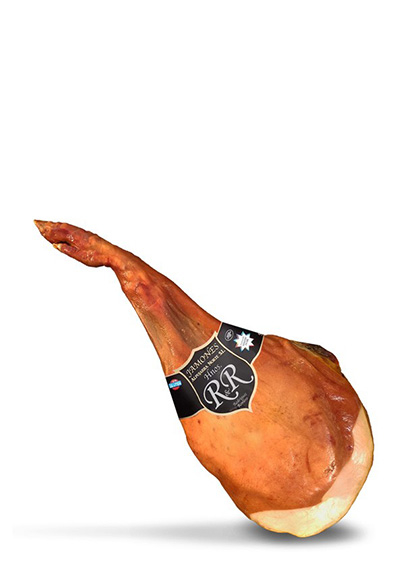 Jamón serrano - paleta Alpujarra
Front leg from a white pig cured 9 months. Aged by natural drying process. Distinctive ripe flavour without excessive saltiness.
An excellent demonstration of the mastery of pork drying in the Alpujarra mountains of southern Spain. The palette is matured by a process of drying in the fresh air for nine months. The palette comes from quality white pig farms. The flavour of the meat is characterised by an exceptional intensity of mature notes. The Alpujarra Serrano range is a good opportunity to enter the interesting world of cured Spanish ham.  
For convenient slicing of the ham, we recommend purchasing a special stand and knife. Both are offered in a set with the ham at a reduced price.
Store the ham at room temperature. The shelf life before slicing is a minimum of 6 months from order. After slicing, we recommend consuming within 2 months. Slicing instructions in English are included with each order. The ham is vacuum packed and shipped in a cloth "sock". We recommend checking the quality of the vacuum packing periodically after receiving the ham. If the vacuum packing is broken, the ham should be removed from the plastic wrapping and left in the fresh air.
Front leg from white pig, weight as ordered and maturation period 9 months. 
Ingredients: pork, salt, E-250, E-252